The Donald Ross Neighborhood is defined by two entrances into Donald Ross Drive at the corners of Linden & Donald Ross and McDonald & Donald Ross. Today there are 145 homes within the neighborhood and 13 lots awaiting construction. The ride through Donald Ross Drive detours to nine cul-de-sacs. Click here to view Neighborhood Map.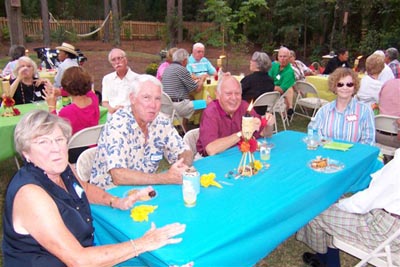 The Donald Ross Association, founded in the late 1980s is predominantly a social organization, which plans several events each year to promote a sense of togetherness in our community. There's the Annual Business Meeting & Cocktail Party in April (aka" The Pine Pollen Party") ; the Ladies' Wine and Cheese Party in March; the Annual Fall Picnic in September and the Annual Christmas Party in December.
Another important aspect of the association is the maintenance and landscaping of the corners at Linden and McDonald. Flowers are planted by association volunteers twice each year. Christmas lights and decorations give our community a nice look during the holday season.
Our organization is dedicated to improving the quality of life in our neighborhood through proactive response to livability issues and working on a sense of togetherness. Our goal with this website is to keep our neighbors informed, active and in-touch. Is there something you would like to see on your website? Contact us at info@donaldrossassociation.com. In the meantime, take a look around and get to know your neighborhood a little better.